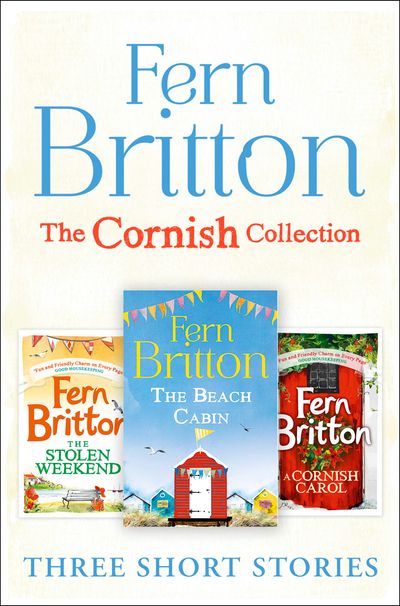 Fern Britton Short Story Collection: The Stolen Weekend, A Cornish Carol, The Beach Cabin
By Fern Britton
The perfect Cornish holiday escape. A 3-book short story collection from Sunday Times bestseller, Fern Britton.
THE STOLEN WEEKEND, Short Story
Best friends Penny Leighton and Helen Merrifield had swapped their hectic London lives for the leisurely pace of life in a pretty Cornish village. But they're both in need of a respite from their Pendruggan men.
The two women cook up a scheme to leave them behind and get back to London for a weekend of blissful indulgence. But you know what they say about the best laid plans… Will Penny and Helen's stolen weekend be everything they've dreamed of, or something else entirely?
A CORNISH CAROL, Short Story
This will be one Christmas they'll never forget…
Piran Ambrose is the epitome of brooding male. But Pendruggan's Mr Rochester is in danger of becoming its Ebeneezer Scrooge when he is driven to distraction by the villagers' over-the-top Christmas celebrations.
When Piran's bad temper risks spoiling Christmas for everyone, something drastic needs to be done. So, over one Christmas Eve, three very special people pay Piran a visit, determined to show him what Christmas is really all about…
THE BEACH CABIN, Short Story
Ed and Charlotte have been married for fifteen years, but they have been drifting apart and now Ed suspects that Charlotte may be involved with another man.
Desperate not to lose her, he decides a family holiday is just what they need and rents a cottage on the cliffs near the picturesque Cornish village of Pendruggan.
So into their car the family all pile – will their Cornish escape be the holiday to make them… or break them?
Praise for Fern Britton: -
"'Complicated friendships and tales of a chaotic love life make this a must-read" - Woman
"'Another ripping good read" - Good Housekeeping
"'This is a light-hearted, fun and easy read…" - Daily Mail
"'Charming and fun read" - OK
"'A light-hearted, fun read that perfectly captures the sights and smells of village life" - Heat
"'Fern Britton has transferred her fun and friendly charm to the page" - Good Housekeeping