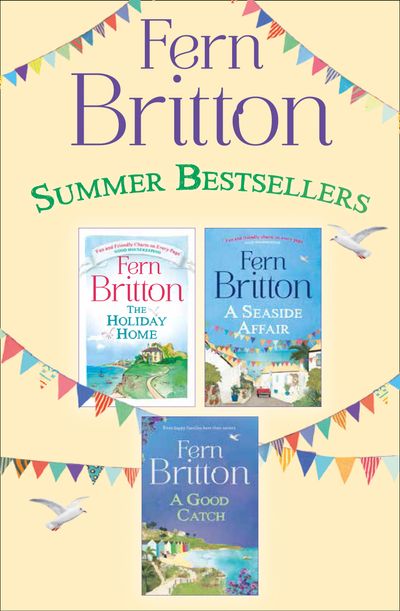 Fern Britton 3-Book Collection: The Holiday Home, A Seaside Affair, A Good Catch
By Fern Britton
Don't miss this warm and witty novel from the No.1 Sunday Times bestselling author Fern Britton. The perfect Cornish Escape!
THE HOLIDAY HOME
Each year, the Carew sisters embark on their yearly trip to the family holiday home, Atlantic House, set on a picturesque Cornish cliff.
Constance, loving wife to philandering husband Greg, has always been outwitted by her manipulative sibling Prudence, but this year she's finally had enough.
When an old face reappears on the scene, years of simmering resentments reach boiling point, but little do the women know that a long-buried secret is about to crawl out of the woodwork . . .
A SEASIDE AFFAIR
When the residents of the Cornish seaside town of Trevay discover that their much-loved theatre is about to be closed, they are up in arms. It falls to hotshot producer and vicar's wife Penny Leighton to devise a rescue plan, and she starts to pull in some serious favours.
The town is soon deluged by actors, all keen to take part in a charity season at the theatre. One of the new supporters is Jess Tate, girlfriend of TV heartthrob Ryan Hearst. His career is on the rise while her own is in the doldrums. But everything is about to change. Trevay must put on the show of its life – can the villagers, and Jess, hold on to the thing they love the most?
A GOOD CATCH
Beautiful Greer Clovelly is used to getting her own way. She's been in love with Jesse Behenna since her first day at school and she's determined that one day, they'll be married.
Loveday Carter loves Jesse too. But living in the shadow of her friend has become a way of life, and she knows that what Greer wants, she usually gets.
Jesse, caught in the middle, faces an agonising choice. And what about his best friend Mickey, who worships the ground that Loveday walks on?
As the dark clouds start to gather the four friends find themselves weathering a storm – one that has the power to sink them all . . .
"Praise for Fern Britton'A light-hearted, fun read…" - Daily Mail
"'Another ripping good read" - Good Housekeeping
"'Charming and fun" - OK
"'Complicated friendships and tales of a chaotic love life make this a must-read" - Woman
"'A light-hearted, fun read that perfectly captures the sights and smells of village life" - Heat
"'Fern Britton has transferred her fun and friendly charm to the page" - Good Housekeeping