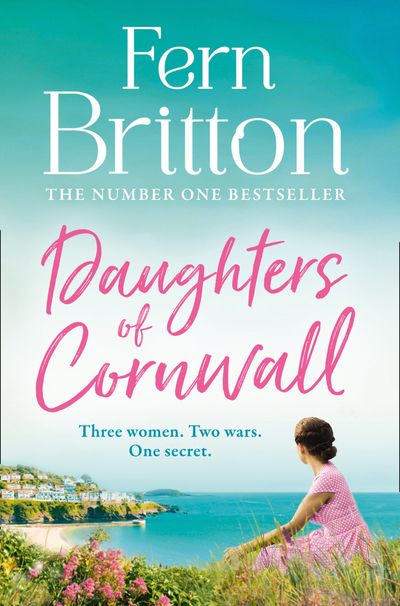 Daughters of Cornwall
By Fern Britton
The No.1 Sunday Times bestselling novel!
Love can last a lifetime. But can it last three?
1918
World War One is over. But Clara's fight for her family is only just beginning…
 
1947
Clara's daughter, Hannah, is in love for the first time – but like her mother before her, she realises that everything comes at a price. In the devastating wake of World War Two, she must protect her baby, Caroline…
 
2020
Caroline lives a quiet life on the Cornish coast. But a devastating discovery threatens everything she holds dear… This secret could break her family, but only if they let it.
Are the daughters of Cornwall ready to tell the truth?
From the Sunday Times bestselling author comes a sweeping, epic novel of mothers and daughters, secrets and lies, and a love that lasts a lifetime…
Reader reviews for Daughters of Cornwall
'The best book I have read for a long while' ⭐⭐⭐⭐⭐
'I love the way that Fern's books transport me to Cornwall' ⭐⭐⭐⭐⭐
'I couldn't put this book down. I think it's Fern's best one yet' ⭐⭐⭐⭐⭐
'I loved every page of it' ⭐⭐⭐⭐⭐
'What an absolute joy to read!' ⭐⭐⭐⭐⭐
'Another heartwarming story from Fern. She never disappoints' ⭐⭐⭐⭐⭐
'A delightful yarn. Can't wait for her next book.' ⭐⭐⭐⭐⭐
'I didn't want to put it down' ⭐⭐⭐⭐⭐
Praise for Fern Britton -
"'A charming story that is full of hope…will help put a spring in your step" - The Courier
"'This is ideal holiday reading" - Woman
Cornwall is only a page away in this gorgeous, heart-warming novel - a wonderful read for the summer holidays! -
"'A warm, easy read that depicts the joys of rural Cornwall" - Daily Mail
"'The warmth and empathy that have made Fern Britton such a popular TV presenter are evident in her latest novel" - Woman's Weekly