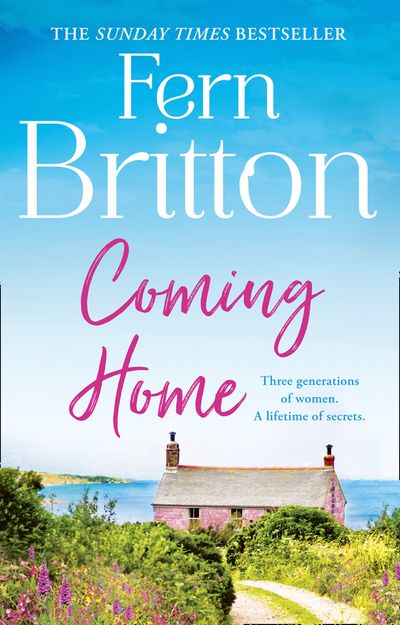 Coming Home
By Fern Britton
From Sunday Times bestselling author Fern Britton comes an epic tale. Three generations of women, their lives, their loves and their longing to come home to Cornwall.
'A heartfelt novel about family secrets and atonement' Fanny Blake, Woman & Home
Three women.
A lifetime of secrets.
The only place to be is home.
Ella comes back to the beautiful Cornish coast to heal her heart after the death of her beloved grandmother, Adela. There she finds her home again and discovers a new life, but she also opens a treasure trove of secrets.
Twenty years ago Ella's mother Sennen ran away from Cornwall. Sennen had been a young single mum and, unable to cope, had left their children with her mother Adela…and a part of her with them. She's spent the years since hiding from her past, hiding from herself.
Now it's time to come back to Cornwall. To face her mistakes. To pray for forgiveness. And to hope for a future with her long-lost daughter and son. Will she be welcomed back with open hearts?
They say home is where the heart is. It's time to come home…
Pendruggan: A Cornish village with secrets at its heart
"'Coming Home will give you the warmest of glows; with love at its heart, this is a story of family secrets, forgiveness and fresh starts. I adored every word!" - Cathy Bramley, Sunday Times Bestseller
"'Incredibly atmospheric" - Sun
More praise for Fern Britton: -
"'Warm and intriguing and thoroughly enjoyable" - Sunday Times bestseller, Katie Fforde
"'Another ripping good read" - Good Housekeeping
"'Charming and fun read" - OK
"'A light-hearted, fun read…" - Daily Mail
"'Complicated friendships and tales of a chaotic love life make this a must-read" - Woman
"'A light-hearted, fun read that perfectly captures the sights and smells of village life" - Heat
"'Fern Britton has transferred her fun and friendly charm to the page" - Good Housekeeping